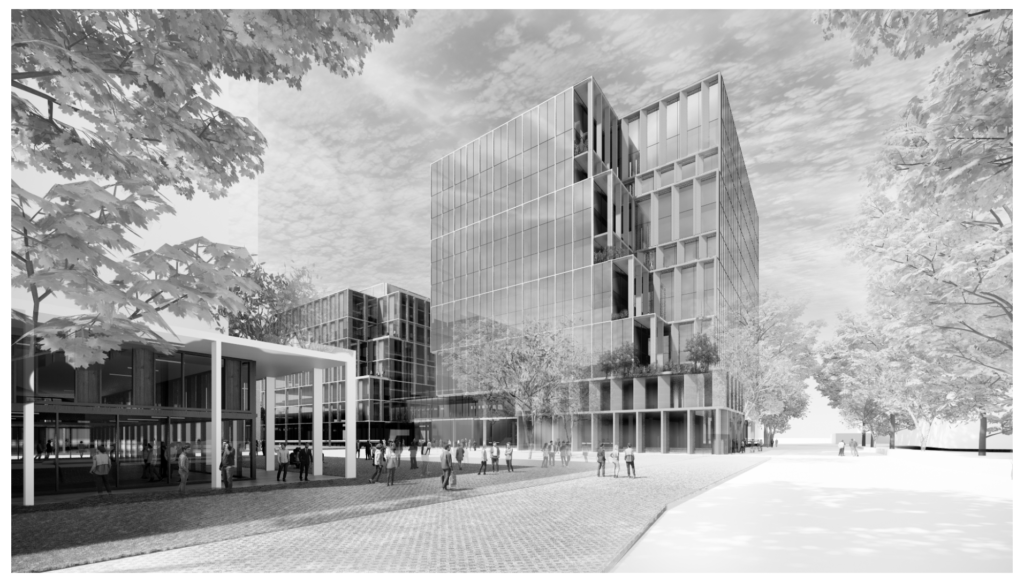 It's been an honor to participate – at multiple levels – with the transformative project known as Aggie Square.
Much has been shared about this initiative that works between UC Davis and the City of Sacramento to develop the true Anchor Institution for Sacramento. This transcends a project into refreshing the community in many ways. See https://aggiesquare.ucdavis.edu/ for most current information.
Again, much has been communicated about this and how it is already changing this city. Moreover, this is an example of how the medical and higher education institutions of a city are working to redefine, repurpose and improve our cities. This is an exciting promise that can be replicated in many other cities.
This image shares the original vision from the Wexford/ZGF/Whiting Turner team. The Wexford, ZGF and Whiting Turner people have been incredible partners, proving once again it is more than a project.
I am drawn to this image because it embodies old school renderings. The final product will invariably deviate but the vision is the essence of the spirit of potential captured in the image.
Personal note, I feel quite humbled to work with Mark Romney to develop the original planning efforts starting in 2016. In addition, working with the team under the leadership of Chancellor Gary May and planner Bob Segar, the concept became a vision. And now, it's been fruitful to assist the UCD Real Estate team in completing the tenant improvements for the research and office components of Aggie Square. Such an incredible honor to have connected to an initiative at inception, development and construction.