This installment of the SwiftEnvirons series of discussions with leaders in sustainability and innovation, we sat with Shannon Scott and Sean Scott of COMUNITYmade to hear how they are redefining footwear design and manufacturing.
COMUNITYmade's story is compelling, connecting the themes of innovation and sustainability.
SwiftEnvirons: Tell us what makes Comunitymade unique?
Shannon: Our shoes are made right here in Los Angeles by highly skilled craftspeople who have perfected the art of shoemaking. By producing locally, we have the opportunity to help support commerce in our community, allowing our workers to build build a sense of ownership and pride.
The very premise of Comunitymade is innovation . How you define Innovation:
Sean: The Bottom Dollar Charlie is not the goal. That defeats the purpose.
Shannon: It's really important for us to demonstrate that "made in America" can also be innovative and technical. We believe in supporting the local economy and bringing back the lost art of quality manufacturing to the city of Los Angeles.
Your commitment to sustainability and use of local materials and manufacturing is exemplary. What drove you to this rethinking of the status quo? How did your experiences in large shoe design and manufacturing companies influence your decision to found COMUNITYmade?
Sean: We worked for major worldwide manufacturers. Doing third party evaluations of locations was enlightening. Of course, a shoe is a complicated thing to make – global distribution, subcontractors, labor conditions, we saw a lot of unsafe conditions
We saw sustainability abuses as well – driving out in the countryside every 10 miles another coal plant, they were building more even as they said they were in line with the Paris Accord. This is wrong, we said, we can't do this anymore. We were compelled to do something differently.
Shannon: We are committed to making the most sustainable and responsible decisions in developing and manufacturing our products and our goal is to utilize the local materials and construction methods available to us. We are also driven by our consciences, many of our materials may come from overseas, not because it's less expensive but because the best shoemaking materials are very hard to come by in the USA.
Sean: We had to build an entire supply chain and process. Eliminating carbon footprints, pay fair living wages. Recognized that from the consumer perspective there was a lot of talk about labor, consumers getting more savvy about where things are made.
Shannon: Maybe we were naïve in starting it – zero infrastructure to do this. Had to rebuild an entire supply chain. We felt we were on "Crazy Island" for some time but we stuck with it.
Sean: At first we couldn't get vendors, contractors, partners to listen.
Shannon: But now the tide is turning. The Farm to table type situation is becoming more applicable across other industries.
Tell us about your commitment to community and people:
Shannon: We built our business model around giving. We give 10% of all sales to donations. We give the customer the choice to send the donation to the charity of their choice or to use the nonprofits provided by Comunitymade.
Swiftenvirons: Your plan is full circle – local manufacturing and sales, good working conditions, training and work opportunities. And a high calibre, stylish product. What is your final thought – what is next for Comunitymade?
Sean: Spreading the successful formula here at Comunitymade to partners in other cities. We can build on our successes and experiences and work with other cities to share the Comunitymade model.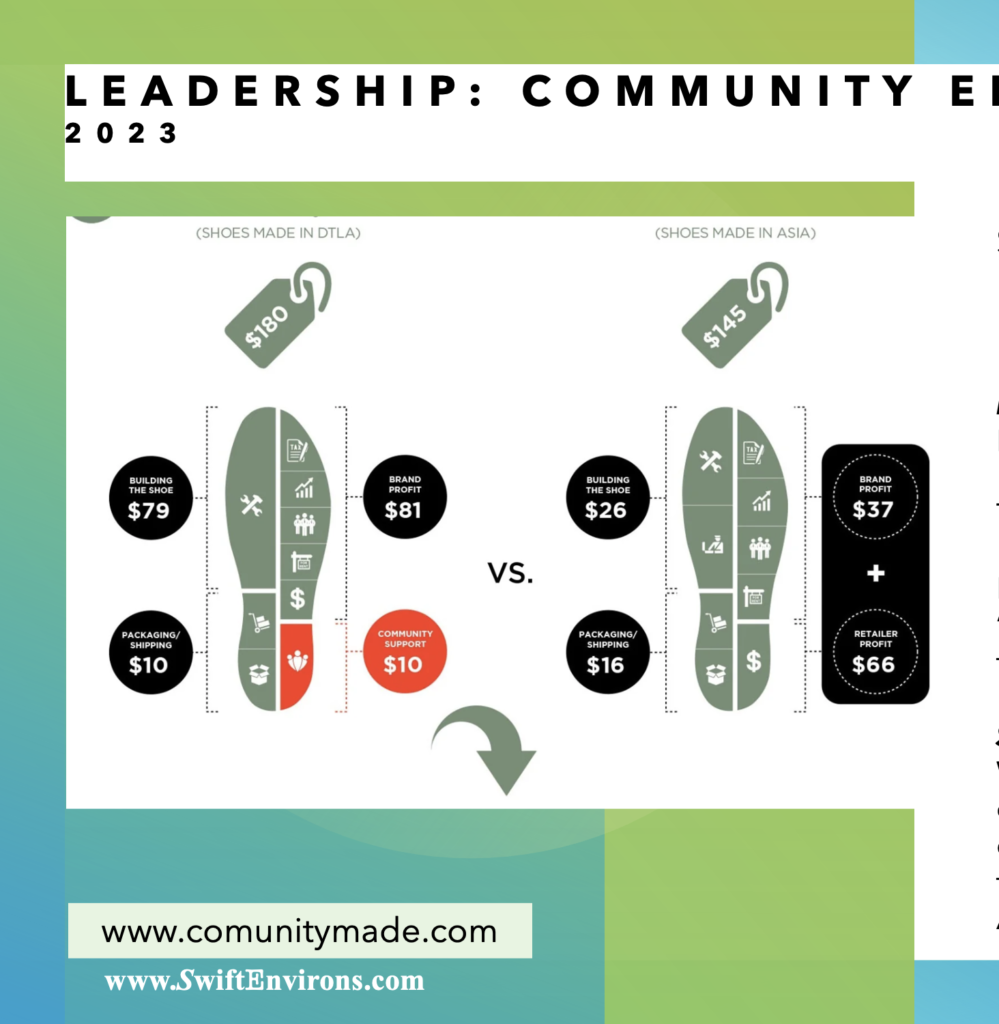 Portions of this conversation were originally presented at the Global Symposium on Leadership and Project Management in August 2023. A special thanks goes to Les Stein and Jacques Alexis at Northeastern University.